This post may contain affiliate links. I may earn a commission from qualifying purchases at no additional cost to you. Full disclosure here.
Wondering how to start a blog for beginners? Well, here are 10 super easy steps to start a cute WordPress blog for cheap. You can literally start TODAY!
When I was planning to start a blog, I really appreciated the people who gave me simple, clear, and concise instructions on how to start a blog and make money.
And that is why I will not go around the bushes but show you the straightforward step-by-step process of how you can start your blog today.
I will be completely transparent about how I created my beautiful WordPress blog from start to finish. And also how much it cost me.
So, grab your laptop, go to your favorite coffee spot or whatever (with wifi of course), and just dive in. Because your successful journey to blogging starts today.
Without further ado, here are the 10 steps to help you create a blog and start making some money.
Related Blog: What is a blog? Easy way to know if blogging is for your
10 Easy Steps How to Start a Blog Today
Save the "How to start blogging for beginners " blog post and follow me on Pinterest.
1. Find a blog niche
The first most important step to starting a blog is to find a specific niche that you would like to talk about.
Hey, don't be embarrassed! But if you are wondering, in simple terms a blogging niche is a specific topic you would like to talk about to a specific audience.
For example, it could be a travel blog for adventure enthusiasts, a mom blog for new moms, a dessert blog for sweet tooth cravers, and a ton more.
If you really don't have a clue on what to blog about, here are the 50 most popular blog niche ideas that could make you money. Feel free to grab them below.
2. Choose your blogging platform
This step is mostly for you guys that are wondering if you can start a blog for free. Well, the simple answer is, yes, you can start a blog for free depending on what blogging platform you use. (hosted vs. self-hosted platforms)
Although, before you jump in and make a decision, one IMPORTANT thing you have to know is the difference between a hosted blog and a self-hosted blog. I promise I will make this as simple as possible for you.
Difference between a hosted vs. self-hosted blog
Hosted Blog
Free hosting platform
---
Examples:
Blogger.com
Wix.com
WordPress.com
Squarespace.com
Pros
No initial cost
Easy to set up
Cons
Your blog will be a subdomain. e.g (yourblogname.blogspot.com)
Limited to their rules and restrictions.
Limited memory space.
No full control of your blog.
Hard to monetize your blog because most ad agencies and affiliate partners prefer a self hosted blog.
Self-Hosted
Paid hosting platform
---
Examples:
Pros
No restrictions and full control over your blog.
Own your domain. e.g (yourblogname.com)
Easier to build a brand.
Ability to customize themes.
Access to back files which allows you to make necessary code changes.
Better for search engine optimization.
Affordable third party hosting services.
Prefered for ad agencies and affiliate partners to make money.
Cons
Can be intimidating to set up.
Not free.
Whoa! That was a lot. So, I know that you may be confused about what blogging platform you should choose.
I fully recommend starting a self-hosted blog. Because it is not as expensive or complicated as you think. And in the long run, it is what you need to start a successful blog that makes money and to build a personal brand.
So, make a small investment to build a brand that you fully own. You will thank me later!
3. Get a domain & Web Hosting
Now that you have decided to start a self-hosted blog, the fun can begin.
The next most important step is to choose a web hosting platform and get a domain. (You can buy a domain from your web hosting and if you already have one, that's okay, you can always transfer)
There are a ton of web hosting platforms for your blog but I fully recommend SiteGround. That's the platform I use because it's super affordable, reliable, and accessible whenever I have questions.
Also, apart from SiteGround, I have seen other bloggers recommend Bluehost, you can most definitely check them out.
After you weigh your options, here is how to set up SiteGround hosting:
Step 1: Open siteground
Go to SiteGround here.
Step 2: Click on WordPress Hosting
Choose WordPress hosting > View Plans
Step 3: Choose a hosting plan
If you are a beginner at blogging, I recommend choosing a startup plan. It's super cheap and more than enough.
Step 4: Register a domain
This is the step where you choose a domain to register if you don't have one. If you have one, click ( I already have a domain and proceed).
What is a domain? A domain is the unique address of your blog on the internet. Simply, it could be the name of your website/ blog.
For example, my blog name is Mercy K. My domain is mercyk. My unique address on the internet is www.mercyk.com and on email is hello@mercyk.com. I hope you get the gist of it.
Also, most people get a .com extension but you could also get a .org, .net, .biz, etc. For a blog, I recommend getting a .com extension. If it is not available, you most likely have to choose a different domain.
Here are simple tips when choosing a domain/ blog name:
Make it simple, short and catchy. (Something people can easily remember and type, avoid hyphens & numbers)
Choose a name that would build a brand that could last forever. (e.g Factor in things like if you plan on being married & changing your last name).
Make sure the name is not trademarked and is available on all social media platforms for consistency.
Use a domain name generator if stuck.
Step 5: Complete purchase
The last step is to complete your purchase for your web host and domain.
*On a side note: Before starting a blog, I recommend creating a new Gmail account for your blog-specific purposes, sign-ups, and organization. For example yourblogname@gmail.com
In addition, you could add any extra services that you need. I personally have both domain privacy and site scanner services just to be safe. But it's totally up to you.
4. Set up your WordPress Site
Once you have purchased the hosting plan, it's super easy to set up WordPress.
Verify your domain through email.
Log in to your SiteGround.
Click on the Website tab at the top of your page.
Select start a new website.
Select wordpress or woocommerce only if you plan on having a shop.

I selected the woocommerce (includes both wordpress & woocommerce) options only because I plan to have shop some day.

Finish the set up and you will have wordpress and your domain intergrated.
Now log in to your WordPress.
Log in to your siteground.
Go to Websites tab.
Click Site Tools.
On the side, click on wordpress.
Click Install & Manage.
Click a small arrow, to login to wordpress admin panel.
5. Get a cute website theme on a budget
Let me just say, that I am so proud of you for reaching this far. GOOD JOB!!! Honestly, you never know what the journey of blogging could bring to your life.
But, hey let's not get distracted. Take a little break and get ready for the fun part! Yaas! Choosing a cute blogging theme.
I usually get a lot of people who ask me how's your blog so professional, so chic and cute, and organized.
Let me tell you the truth, I was frustrated for a long time about starting a blog because I thought building your own website was super expensive. Most of them were $3,000 designs and $1,000 at the least. I mean who can afford that? Clearly NOT ME, haha!
Anyway, it was not until I landed upon another blogger's website that recommended affordable and super cute website themes. And let me tell you I was in awe. Like WOW! My life completely changed.
WordPress Themes Ideas
– Website Design shops
Well, the long-held secret is that…
I bought a cute website theme on a budget from 17th Avenue.
They simply have:
Variety of themes at super cheap price. (I mean less than $100)
Cute, chic, and professional templates. (Including shop and instagram templates)
Fully customizable. (You can change colors, logo, etc.)
Mobile friendly themes.
Amazing support and clear step-by-step tutorials how to set up your blog.
All in all, being 100% transparent I bought the Harper theme design from 17th Avenue for only $69 and I absolutely love it.
I mean look how much I was able to customize it to reflect my style. They have a variety but I don't even care if you get my theme. 1000% worth it!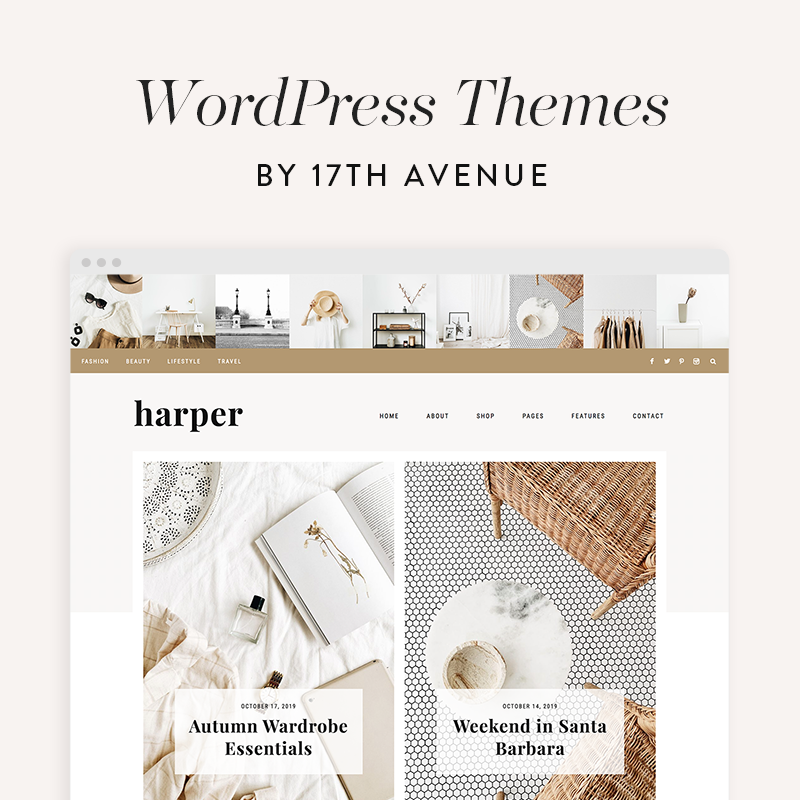 – Etsy WordPress Theme
Another option is getting a beautiful WordPress theme from Etsy. I don't have experience with them, but I am sure they have great instructions on how to set up your blog.
They have themes as cheap as $11, LOL!

– Free WordPress Theme
If you're totally broke, I suggest starting out with a free theme on WordPress. They have over 4,000 themes. Although they might not have a wow effect, it's still a place to start, until you can afford customized themes.
Don't let anyone pressure you to buy a theme. You can still be successful using free WordPress themes.
– Fully Customized Theme service
Lastly, this is the best option for those who want a totally unique theme, specifically catered to their brand, and have a ton of money to spend on a web design professional.
Mostly ranges from $3,000 to $10,000, and above. (17th Avenue Designs charges $50-500 depending on the scope of work)
Dah irrelevant? I know that's what you're thinking, haha! But why I'm I telling you this?
I think it is important to know that you're not limited. As you grow in your blogging journey, your taste changes or you find that you need new additions to your blog or you need your blog to look even more professional.
Well, that is the time to pay someone to level up your blog.
6. Start designing your blog
Now, get your hands ready to start designing your blog. Fun! Right?
So make sure to:
Create your blog categories.
Change logo.
Change colors (Create a branding kit).
Update about, contact, and privacy pages.
Intergrate email subscription.
The good thing about 17th Avenue Designs is that they have easy tutorials to help you start designing your blog. I was able to do everything all by myself without a problem.
-How to integrate email subscription
Having a way for your readers to subscribe to your email list on your blog is very crucial to growth. Make sure to integrate an email subscription service on your website from day one.
Do your research and compare the best email marketing services such as:
Mailchimp ( Free for the first 2,000 subscribers)
Convertkit ( Free for the first 1,000 subscribers)
Flodesk (Free for the first month)
I use Flodesk and I absolutely love it. 100% recommend because it:
Has cute and stunning email templates designs that people love to open.
Easy to use and create forms and workflows.
Unlimited emails, subscribers, and access to all features forever for only $38/month.
Other email services charge an insane amount once your subscribers' list grows. (e.g Mailchimp charges $59/month and ConvertKit $66/month for only 5K subscribers) And just so you know successful bloggers have over 200,000 email subscribers. You don't even wanna guess how much they pay per month.
7. Protect your blog
Okay, blogging is about to get a little bit serious, Lol! But, I feel I would be doing you an injustice if I don't tell you about the NOT SO GREAT side of blogging.
Anyway, from day one IT'S ADVISED TO PROTECT YOUR BLOG legally. It could be more or less, but through having:
Privacy policy
Terms and Conditions
Affiliate disclaimer
OMG! What a pain in the ***! Don't worry, that was my first thought too when I wondered how the heck I'm gonna draft all that. I mean I barely passed business law class in college, haha!
And on top of that, who can afford a freaking lawyer, Not me!
But, you know what, I gotcha.
I found so much peace of mind when I learned about The Contract Shop through another blogger.
So, The Contract Shop sells legal templates drafted by an attorney, specifically for creative entrepreneurs.
–
Advantages of buying legal templates
Cheaper than lawyer fees.
Lifetime access and updated regularly.
Easy to download and edit.
Better safe than sorry.
Forget about writing the law jargon.
Whether you have registered your blog as a full-blown business or not, you have to be legit. You'd rather spend your money on protecting your blog than buy a theme. That's just my two cents.
I personally bought the Terms & conditions and privacy policies bundle. If you are unsure of what legal templates you need, you should email them for advice.
Disclaimer: I am not a lawyer by profession. This blog is for informational purposes only, does not constitute legal advice. 
8. Start writing and publishing your blog posts
Wallah! Now the complicated part is over. You can now sit down and start nurturing your creative side. Go ahead write and publish your first blog post.
I recommend taking the first two months or so to learn and publish at least 8 posts, before launching your blog to your friends, social media, and family.
Also, blogging is a learning process and you have to be patient and consistent to grow and make a lot of money. To be honest it will not happen on the first day or the first month.
-How to write a blog?
Another main thing you should be aware of is that writing good posts takes a lot of time and effort. Therefore, to be a successful blogger, you have to learn the best practices.
As much as I would like to tell you the step-by-step process on how to write a post that is engaging and rewarding, I thought it would be best to refer you to a qualified source.
The perfecting blogging course is one of the courses I swear by for beginner and intermediate bloggers.
I took this course 7 months after starting my content creation journey, but I WISH I took it within the first month. This is because the course shows you specific examples of how to write amazing posts as well as blogging strategies from a 7 figure blogger.
To be honest, I finished the entire course in less than two nights because it is straight to the point. And the information is so valuable that I am going to rewatch the course.
9. Promote and market your blog
Once you launch your blog, start promoting yourself on social media platforms such as Pinterest, Instagram, Facebook, etc. And encourage readers to subscribe to your email list.
Be proud of your blog and don't be scared.
Also, the number one platform that brings traffic (people) to your blog is Pinterest.
If you don't know anything about promoting your blog posts on Pinterest, you can most definitely learn from a blogger who gets approximately 700,000 monthly pageviews just from Pinterest.
I also use Tailwind to schedule and automatically post all my pins so I don't have to worry about it.
10. Monetize your blog
Lastly, I am going to cover the most important topic of blogging. How to start a blog and make money?
This is the first question that people research before starting a blog. And that is a good thing.
So, to answer the question, absolutely yes, you can make money blogging. However, it is not a get-rich-quick scheme. This is because you have to work hard, strategize well, and be consistent to see results. Moreover, you have to be patient and trust the process.
For example, you can make money through:
Affiliate marketing
Brand deals & sponsored posts
Advertisements
Selling physical & digital products and/or services such as courses, ebooks, coaching, etc.
Selling your blog
As much as it is good to know how you can make money blogging, you also have to be really passionate about the topics you post about.
Otherwise, writing will become exhausting, and your audience will be able to see through that. Thus, leading to low engagement and performance.
– Best Affiliate Programs for bloggers
One of the best affiliate marketing platforms you can join and earn commission as a blogger is the Amazon affiliate program and LTK.
So, start doing all the things they require from you to join asap.
By the way, Amazon affiliate is easier to sign up for than LTK
LTK needs you to have at least these three things to be accepted:
Clean editorial design.
At least 4 months of consistent, quality, and original content. (I think mostly on Instagram)
An engaged and growing audience.
I can refer you to join LTK if you want.
*Disclaimer: Although it helps, I am not in control of whether LTK accepts you or not. I will also try my best to refer you asap within 7 days.
If not accepted, don't give up on applying.
-Best advertising agencies
If you want to make money through advertisements on your blog, here are the best advertising agencies to apply for:
She Media Collective (I currently use and LOVE)
Mediavine (Difficult to get in. Have atleast 50,000 sessions/ month)
Google Adsense (Easy requirements to get in)
Also, just an FYI, it may take time to get in, but it's absolutely worth it to apply once you meet their requirements.
How much does it cost to start a blog?
I know, a lot of people don't like sharing anything to do with money, but I am choosing to be transparent to help you make the right decisions.
This is how much it cost me to start a professional blog.
Total Initial Cost: $429.55
Remember, the cost of starting a blog varies from blogger to blogger. But in the end, it's an investment.
So if you truly have a passion for blogging just start. Even if it's using free platforms and later saving for upgrades and customizations.
Don't let money discourage you from fulfilling your dream.
Last thoughts about how to start a blog
Whew! I don't know about you, but I am sweating. That was a lot of details, lol! I definitely need a treat myself date after writing all this, haha!
Anyway, feel free to take a break, re-read the blog, share with your creative bestie, or whatever really!
But in conclusion, I hope that these 10 steps will give you the tools necessary to help you start a cute and professional blog.
Also, let me know in the comments if have any questions or what your blogging niche is.
And if this blog post resonated with you, please let's be friends. Join my newsletter below, because I can't wait to chat with you more on a personal level.
Related Posts